Step 1 - Downloading Metatrader 4 for Mac OS
First of all you need to go to this link to Download Metatrader 4 and click the Download button as shown in the below picture, in order to download Metatrader 4 for Mac OS


Finally, you just need to click the DOWNLOAD red button in order to download MT4 for mac in your computer.
Remember: I am showing you how to download the XM Metatrader 4, but you are going to use just the software. You are not intended to use necessary XM Broker after instalation. If you have already got a Broker, I'll show you how to run your Broker Account at the end of this guide, so keep reading.
Step 2 - Installing Metatrader 4 on Mac OS
After the download is completed, go to the Downloads folder and double click on the .dmg file and wait for the opening


Now the following window appears. You just need to drag and drop XM icon inside the Applications folder and your Metatrader 4 gets installed in your Mac Computer


Step 3 - Opening Metatrader 4 on Mac OS the first time
Now go to Application folder or press F4 and open XM Metatrader 4
First opening will show you the following message, click on OK


Now open System Preferences from your computer (the gear surrounded by the green circle)


Now click on Security and Privacy as shown in the next image


Now, in order to unlock the chance to open it, click on the bottom left lock and insert your computer password. This way you can unlock it as shown in the next two pictures


Now put your username and password


Once it is unlocked, click Open Anyway button, as shown below


Now click Open once the following popup shows


Wait a couple of minutes and you should have your Metatrader 4 up and running on your Mac OS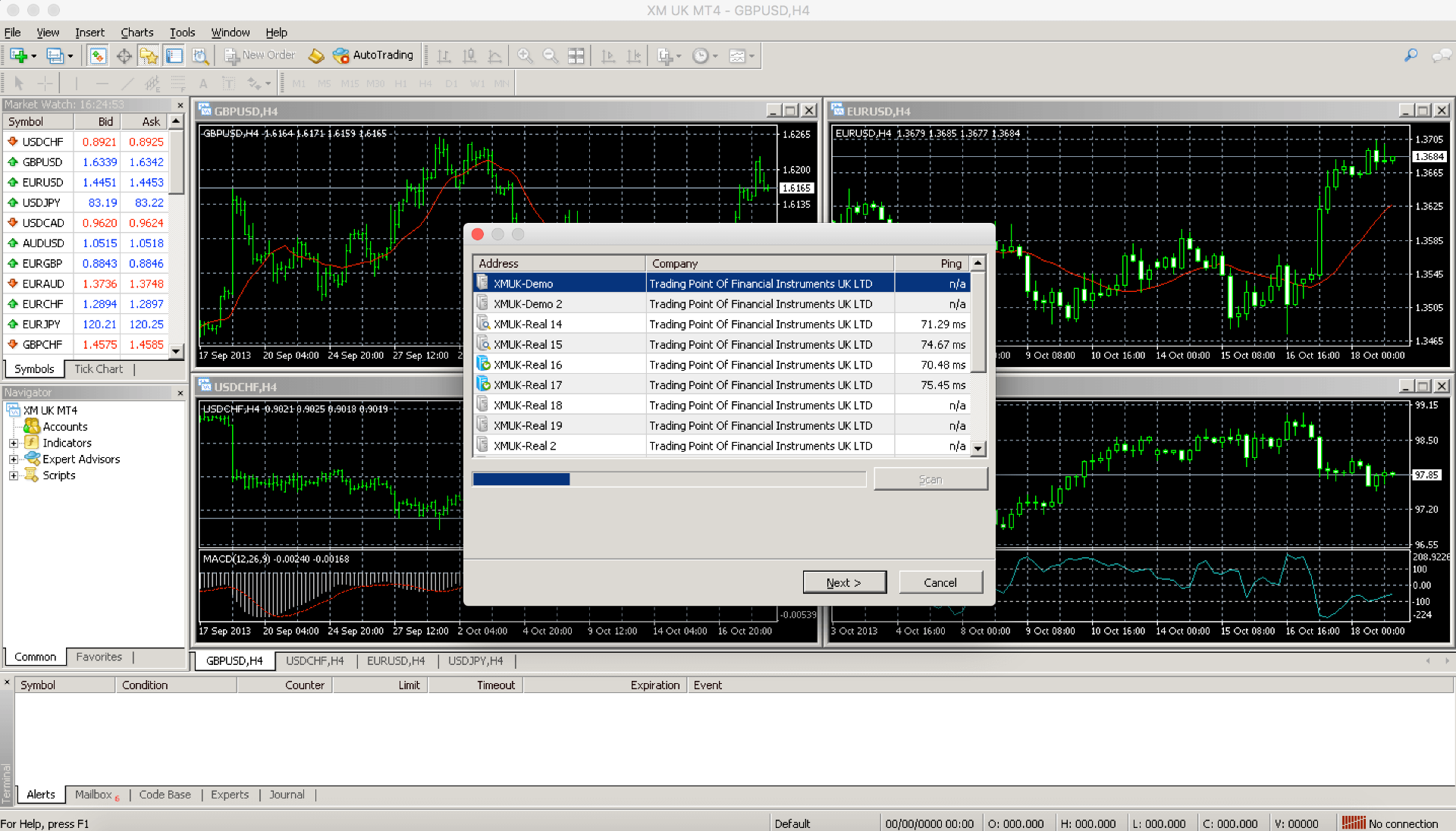 Step 4 - Select your Broker and Log in
If you do not have XM as Broker and you want to use yours, follow these last easy steps to find your Broker.
Click "add new broker like 'BrokerName' or address mt.company.com:443"


Now dial your Broker name. I use Activtrades, so I will dial Activtrades and then click Scan


All your Brokers Servers appear. Just select the one you usually use with your account and click Next


You will now have to insert your Username and Password to Login and enjoy your Metatrader on your Mac


Cesare