The precious metals bull markets
Bull market from 2000 to 2011
The precious metals bull market started in 2000 reached in 2011 a great valuation:
2000-2011: Gold grew from 250$/oz to 1920$ and Silver climbed from 5$ to 50$.
2011-2015: Then from 2011 to 2015 they fell: gold to $1045 and silver to $15.
2015+: Since the end of 2015, they are showing signs of reversal of the medium-term bearish trend and the beginning of a new precious metals bull market.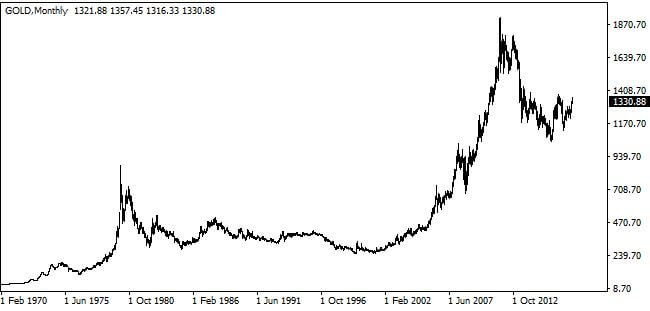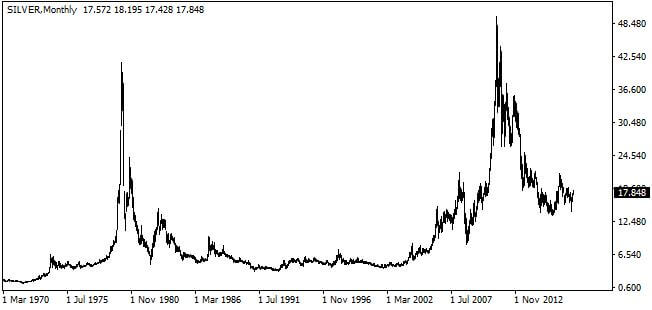 Looking at the past, the bull market from 1970 to 1980
In 1970 when started a precious metals bull market, gold priced $35 and silver $1.50.
1970-1974: precious metals grew, in 1974 gold hit $200 and silver $6.50.
1974-1976: until 1976 the prices dropped, gold to $100 and silver to $4.
1976-1980: They steadily climbed until 1979, finally precious metals exploded in 1979-1980 when gold reached $850 and silver $50.
What I am about to show you
I will show you an evidence on precious metal sector, looking also to copper prices, that demonstrate that 2011 sector peak is not similar to 1980 one. And then that 2011 peak it's more similar to 1974 one: a mid term top.
1974 peaks
Gold 1974 peak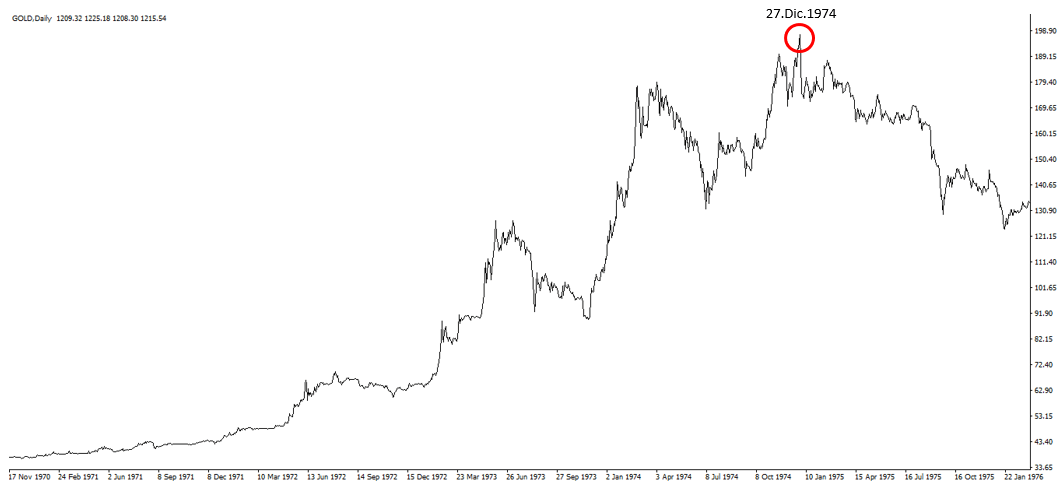 Silver 1974 peak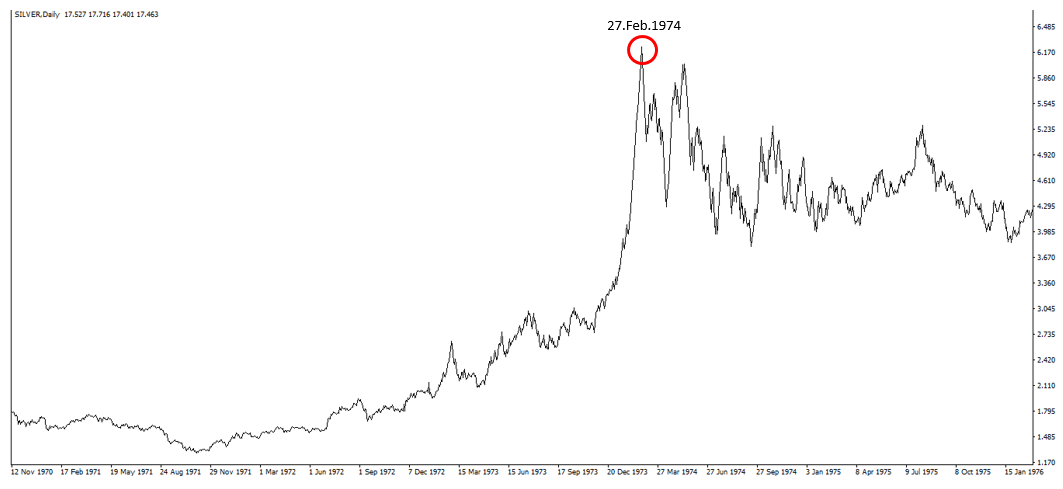 COPPER 1974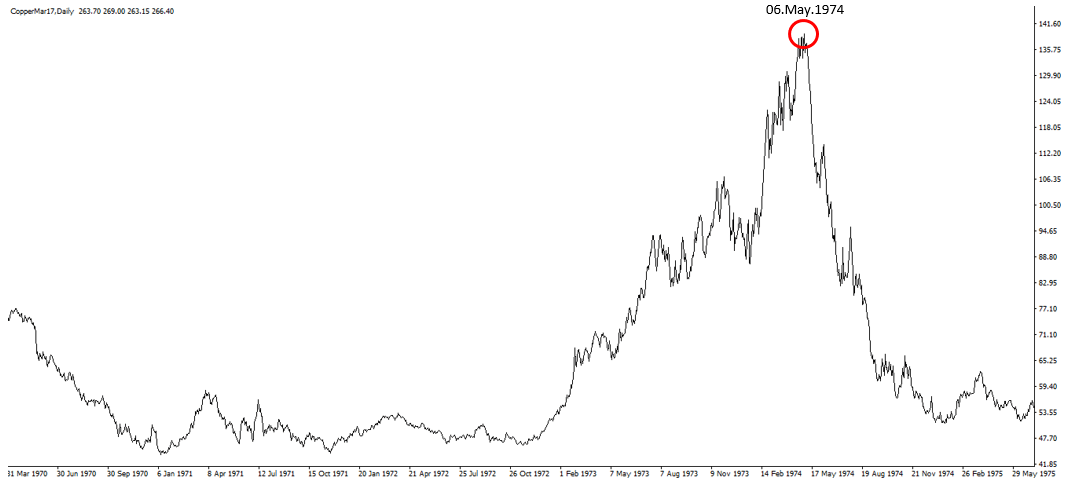 1980 peaks
Gold1980 high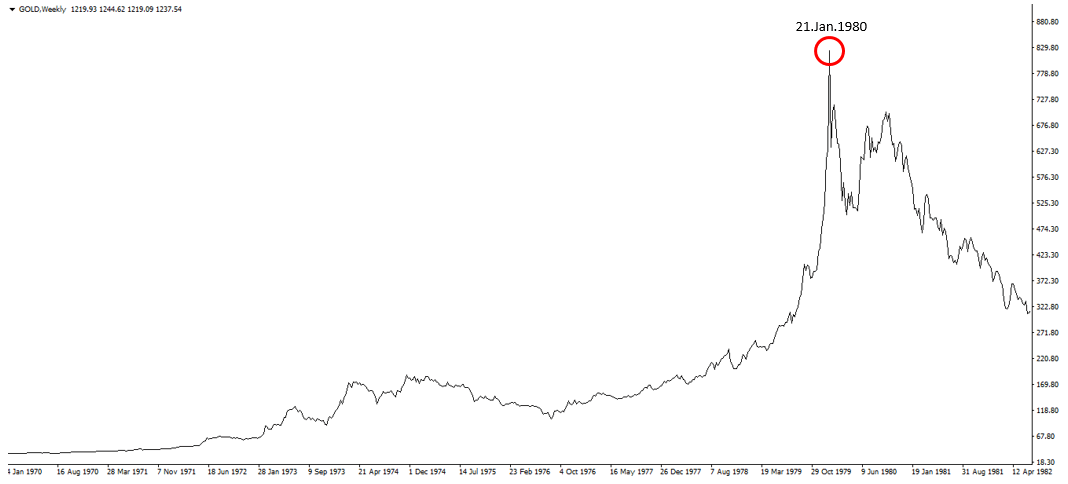 Silver 1980 high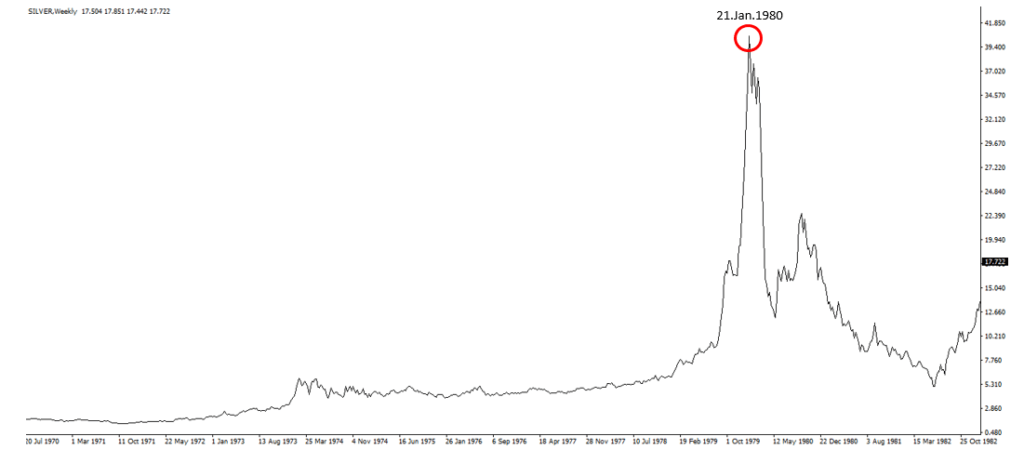 Copper 1980 high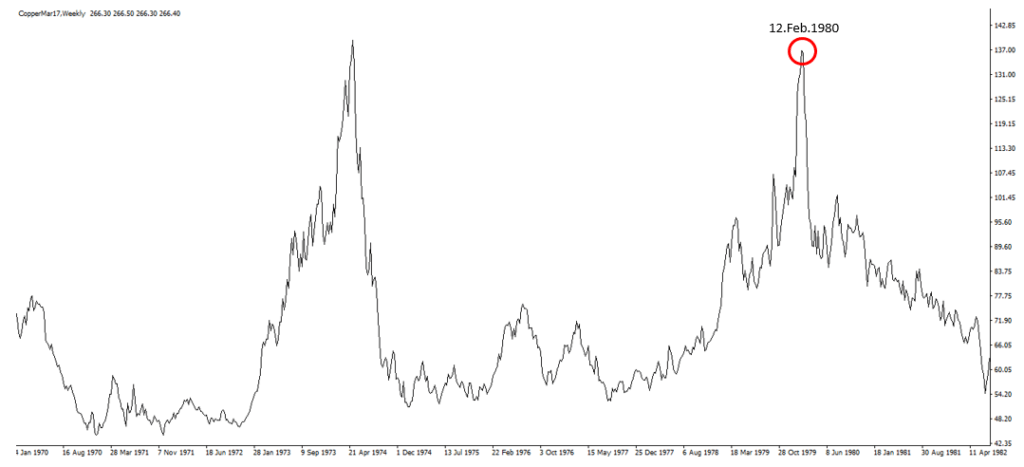 2011 peaks
Gold 2011 top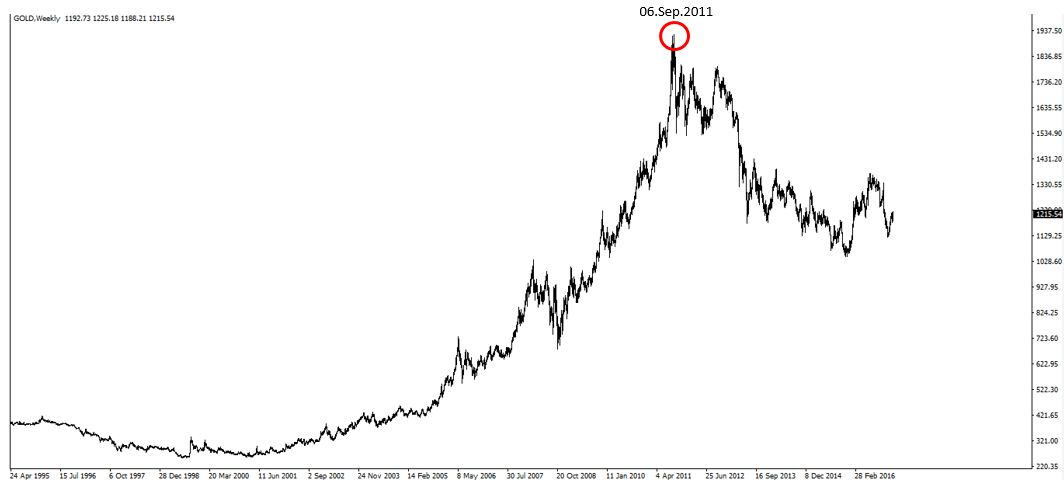 Silver 2011 top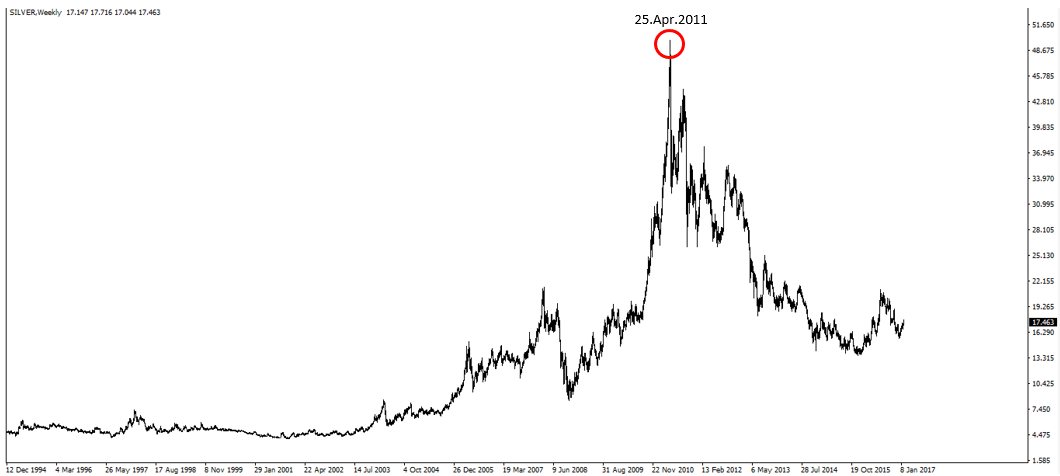 Copper 2011 top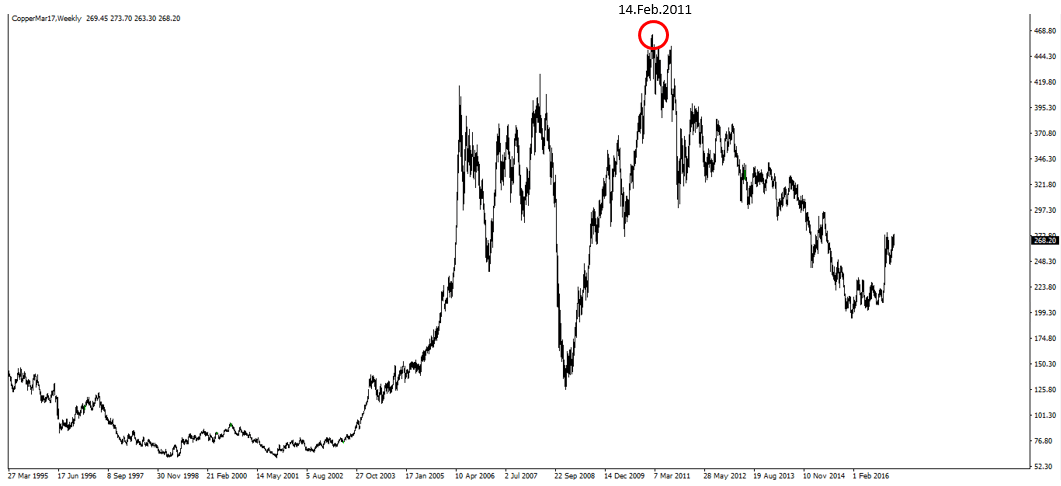 Bull markets peaks comparison
The chronological order of peaks:
1974 :

Silver

on February then

Copper

after 2 months and

Gold

after 10 months.
The 1980 chronological order of peaks:

Gold

and

Silver

both on 21th of January and

Copper

after less than 1 month (22 days).
The 2011 chronological order of peaks:

Copper

on February then

Silver

after 2 months and

Gold

after 7 months.
| Peaks | 1974 | 1980 | 2011 |
| --- | --- | --- | --- |
| Gold | 27.Dic.74 | 21.Jan.80 | 06.Sep.11 |
| Silver | 27.Feb.74 | 21.Jan.80 | 25.Apr.11 |
| Copper | 06.May.74 | 12.Feb.80 | 14.Feb.11 |
Why precious metals peaked in 1980 almost the same day and not in 1974 and 2011?
Because at the end of a secular SECTOR bull market (1980 of precious metals) investors want to buy all assets of that sector they can. Investors get sick of the fear of missing out and prices peak almost in the same day, when all asset's prices reach too much overvalued levels and there are no buyer anymore.
Is it enough to say that precious metals will go up like they did from 1976 to 1980?
No, but precious metals and cryptocurrencies has many reasons to go up next years. The first reason is that all the world currencies (Dollar, Euro, Yen, etc.) are backed by nothing since 1971 and Central Banks are able to create them in infinite quantities.
two resources to deepen the hot topic of precious metals: this great book Guide to invest in Gold and Silver and my article Gold Forecast in which I share an amazing time and price targets forecast analyzing Gold primary price cycle.